As a tourist in the hustle and bustle of Times Square, Rockefeller Center or Wall Street, you might wonder how New Yorkers can stand to live in the middle of all that craziness.
But when you get away from it and go deep into the residential neighborhoods, you'll find row houses, brownstones and historic homes that most people never see unless you live here. A few of my faves:
East 72nd Street and the East River
This stretch of East 72nd Street is one of the prettiest in the city. It's a residential block that ends at the East River, so unless you live nearby or visit the tiny park that overlooks the river, you probably won't just happen upon it.
If it looks like a movie set, you've probably seen it on film. A bit of trivia for writer friends: for many years, Manhattan's most famous literary salon was hosted in the apartment of George Plimpton at this address. More literary trivia: Walk about three blocks west on 72nd Street, and you'll come upon Charing Cross House, an apartment house named after the best-selling book 84, Charing Cross Road, penned by a longtime resident, the late Helene Hanff.
Henderson Place
Walk 14 blocks up York Avenue, go one block east on 86th Street, and you'll arrive at Henderson Place. This small complex, which is its very own Historic District, consists of an alley and parts of East 86th, East 87th and East End Avenue. Built in 1883, it is comprised of 24 Queen Anne-style row houses.
Henderson Place is only about two blocks from our apartment, and Scott and I often walk by here on our way to Carl Schurz Park - the best Manhattan park you have never heard of. Every once in awhile we'll see a "for sale" sign on one of the homes, but let's just say they are bit out of our price range. Celeb neighbors: Gracie Mansion, the home of New York City's mayor, is in the park across street, and Ricky Martin owns an apartment in the high-rise condo on the right side of the first pic.
Pomander Walk
On the Upper West Side, just west of Broadway on 95th Street, there's a metal gate with a staircase that leads to something that looks interesting - but it's locked and you can't go in.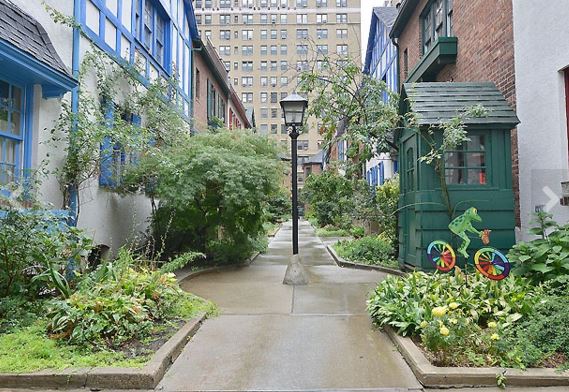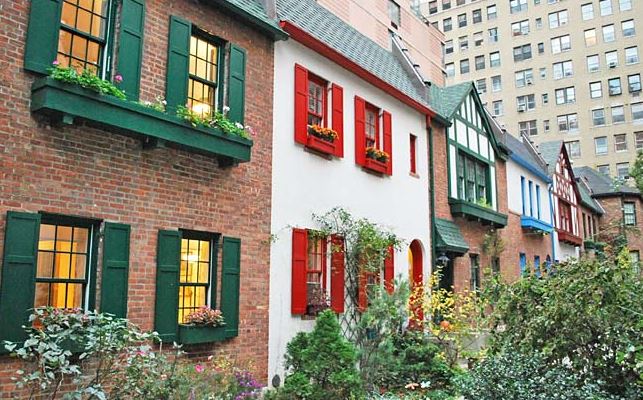 Photos: StreetEasy.com, NewYork.com and ScoutingNY.com - since nosy people like me can't just walk in.
This is Pomander Walk, a quaint private community straight out of an English village. Most of the 27 Tudor-style homes face each other across a narrow courtyard, with gated entrances on 94th Street to the south and 95th Street to the north. When I first moved to New York, and spent weekends hunting down locations from my favorite Woody Allen films, this was one of the first spots I found (it has a cameo in "Hannah and Her Sisters"). While many of the houses have been divided up into flats, the trend in recent years has been to convert some of them back into single-family homes.
What have I missed here? I'd love to hear about your favorite streets - either in NYC or where you live!